Today the conference was in full swing with 100s of sessions. Below you will find what I attended.
Keynote: Shift Complexity
On Mondays keynote they started to state that OOW is celebrating its 35th anniversary. The conference has 50.000 attendants and about 1 million views online, impressive. In this keynote Mike Hurd talked about simplify IT, Oracle offers complete stack and complete choice - the Red Stack. You can now run on servers from Oracle, Database from Oracle, Middleware from Oracle and Applications from Oracle, the complete red stack. With Oracle Engineered System you will get all the benefits of software and hardware.
It made me think, isn't this exactly what Apple is doing? There target consumers are completely different but they also offer hardware and software in their products. When you can control both hardware and software you will have a better optimized product. As simple as that.
Oracle Fusion Applications: Overview, Strategy and Roadmap
Today 400 customers are running Fusion Apps, out of those 400, 100 are live. The majority of the 400 customers are running Fusion Apps in the cloud. The current version of Fusion Apps is 5, Oracle is right now releasing one new release every quarter.
Fusion Tap was demoed (fusiontap.oracle.com), Fusion Tap is an app for the iPad which makes it possible to use Fusion Apps on a tablet. It looked really nice.
What Oracle is working on that could be interesting from a Swedish perspective is localization. Oracle is in the coming year releasing 10-15 countries, Sweden was not one of them so it's still unclear when we this will be coming.
Understanding Oracle ADF and its role in Fusion
I thought this session was covering ADF and Fusion Apps and how it fits together but it was just a general session about ADF. It was stated (again) that ADF is the development framework for the future.
What was interesting is Oracle ADF mobile which will come out very soon. This framework will make it possible to develop apps for Apple and Android devices as it delivers HTML5 code.
Applications Strategy
In this session all of Oracles applications was represented on stage.
Siebel
Fusions Apps
Taleo
Peoplesoft
eBusiness Suite
Supply Chain Management (OTM, PLM etc)
BI Apps
The responsible for each system talked about the future of their systems and the general message was that Oracle is continuing to develop all of their current applications even though Fusion Apps is out.
Introduction to Oracle Data Integrator (ODI)
This was a hands on lab were we to some hands on testing of the product. As my current client is using ODI I wanted to get more understanding of the product. I also talked to one of the experts about some issues that we are facing and got some good tips.
Oracle Fusion Applications: Customizing and extending business processes
This session was late in the day but maybe the most interesting for me personally. The presenter described how it's possible extend Fusion Apps, he talked about three different ways:
- Extend functionality using custom attributes.
- Integration with legacy - on premise/external applications
- Build new Business Processes
Extend functionality using custom attributes
You can add attributes to all objects in Fusion Apps. These attributes are patch and upgrade safe and will be available where ever the object is used. It is like using flexfields in EBS.
Integration with legacy - on premise/external applications
You can build custom BPEL flows which can be called from Fusion Apps to be able to interact with external systems. To trigger a integration you set up a specific event which will trigger a web service. The web service endpoint is set up inside Fusion Apps and will be called when this event is triggered. An event can for example by insert or update to a table.
For inbound message we can use the web service repository fusionappsoer.oracle.com to see what is available.
Build new Business Processes
If we want something other than standard to take place we can build our own flows using oracle technology such as Mediator and BPEL. The flows will be called from the application layer.
All of the things described above is very technical and will required more investigation to get in to.
Mike Hurd in action
Session starts soon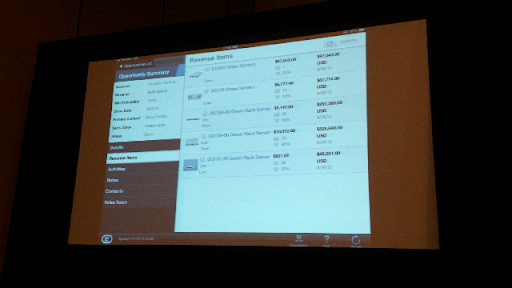 Fusion Tap
Oracle is taking over SF